Are you ready to go green? And, no, we're not talking about St. Patrick's Day, folks! Making the decision to go green and select green materials for your home has become less of a trend– and more about a sincere and ongoing commitment to conserving energy and preserving the environment.
Many eco-friendly building materials, including carpet and flooring, are now available so that you create a home that is both beautiful and kind to the environment. Here at IQ Floors in Colorado Springs, CO, we offer many carpet and flooring products that are considered green or eco-friendly. From improved manufacturing processes, to recycled content, flooring manufacturers, such as Anderson Tuftex, have made considerable strides over the years in creating sustainable products.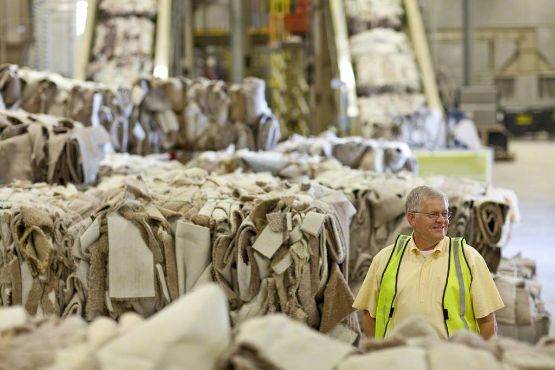 Don't worry, going green in your own home doesn't have to mean building a sustainable home from the ground up! There are several easy ways to make greener choices for your home, starting now. Low VOC paints improve indoor air quality and are better for your family's health. LED lights are more energy efficient and use up to 90 perfect less energy than their iridescent counterparts- plus, they last longer. Opting for eco-friendly furniture made from FSC-certified or up-cycled materials is a great choice. And energy efficient appliances are kinder to both your pocketbook and the environment.
Carpet and flooring are also important green choices for your home, and the options at IQ Floors are truly endless. We believe that you don't have to sacrifice style in order to go green. Consider Art District carpet in color Weathered as an installed broadloom carpet or cut-and-bound rug, made from Cradle-to-Cradle certified recyclable nylon. Crafted using FSC-certified sustainable hardwood and sound manufacturing practices,  Buckingham in color York is a gorgeous white oak floor in 8"-wide planks. Also, many area rugs are now created with recycled fiber content.
Here at IQ Floors, we believe that part of sustainability is creating a better future for our children and a legacy of giving back. We're committed to taking care of both the earth and our Colorado Springs community. IQ Floors is involved in several local charities and projects that make the world, and our community, a better place.
Making better choices for the environment and our homes begins with small steps, like opting for greener materials. If you're interested in selecting green carpet and flooring choices for your own home, we are here to help you. Call or visit us at our store location to learn more about IQ Floors' green and eco-friendly carpet and flooring choices today.