Luxury Vinyl
Luxury vinyl flooring (resilient) might just be the most popular choice of flooring for Colorado homeowners. The reasons why are many. First of all, vinyl can literally go anywhere in your home and can simulate the look and texture of hardwood, natural stone or tile. What this means is that you can have a hardwood look in high moisture rooms – like in the bathroom or laundry room - where hardwood is not recommended. So, you get the gorgeous look of hardwood flooring without any of the moisture/warping worries.
There are also so many colors and styles of luxury vinyl flooring available today that it is easy to find the style that works best for your Colorado home. Luxury vinyl tile or planks are also resistant to water, mildew and stains. With resilient flooring, you never have to worry about your kids or pets damaging the floor during playtime. Luxury vinyl flooring is also budget friendly, durable and easy to clean, and for the DIYer, it is not too difficult to install.
With luxury vinyl flooring you get all of these benefits plus incredible comfort underfoot too!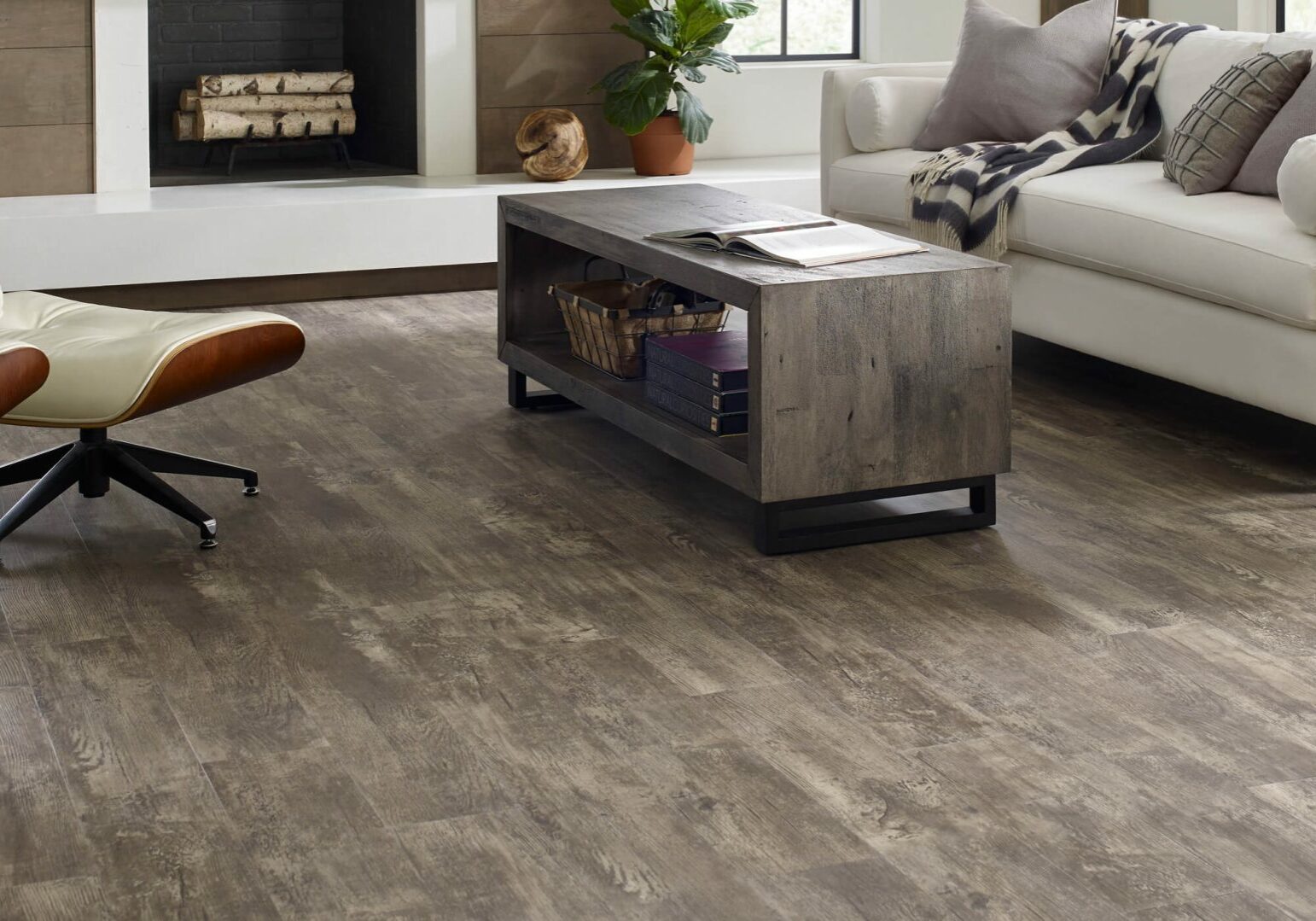 Why luxury vinyl flooring is right for you
Some of the advantages for selecting luxury vinyl flooring for your home:
Easy to maintain - It is pretty basic to keep a luxury vinyl floor looking great. Just sweep away dirt and grit to maintain the surface of the floor and use a damp mop and an approved luxury vinyl floor cleaner to remove drips, spills and everything else. We sell Shaw's R2X Hard Surface cleaner, which you simply spray and then wipe away with a clean white cloth. Cleaning up messes doesn't get any easier than that!
Affordable - Even the highest quality luxury vinyl flooring is still less expensive than other flooring options such as stone and hardwood. The price will vary depending on the quality of the material and the design, but any of our store representatives can talk you through your price options.
Comfortable - We love walking around barefoot. If you do, too, then you know how nice it is to walk on a smooth floor. Luxury vinyl planks and tiles fit the bill because it doesn't get cold in the winter, and it is much softer than wood, stone or tile floors. Adding extra padding underneath to make the floor even gentler on your feet is also a possibility.
Water, Mildew & Stain Resistant - This tough floor will earn its keep! It is perfect for installing in bathrooms, kitchens, laundry rooms, and entryways.
Long-Lasting – Luxury vinyl planks and tiles, when installed properly, can last up to 20 years (or longer!)
Ease of Installation – Luxury vinyl planks and tiles are fairly easy to install, but does require a dry, very smooth and level subfloor with no lumps, bumps or debris.
Types Of Vinyl Constructions
There are so many beautiful possibilities when it comes to LVT. Browse our gallery and get inspired.
A great feature of LVT flooring is that it is straightforward to install. Learn more about what to expect.
Cleaning and maintaining LVT is simple and hassle-free. With just a little effort, your LVT flooring will maintain its beauty for a long time.
Top Quality Luxury Vinyl from Brands You Trust
Our team would love to chat with you about luxury vinyl planks and tiles, answer all of your questions, and help guide you from the first step all the way through installation - and beyond. Let's talk!