Fall In Love With Your New Area Rug
An area rug is like having your cake and eating it too. Meaning, you can enjoy the beauty of having beautiful hardwood floors with the comfort and visual accent of carpeting. It's a win - win flooring option but with so many fantastic options to choose from in terms of style, size, material, color and more; the possibilities are endless!
An area rug can be what you want it to be - it can be the starting point for decorating a space, serve as a focal point, function as floor art, or lend an exquisite finishing touch to a room. The rug can function to hide minor imperfections on the floor below, accent or dress up lovely hardwood, or add warmth to a chilly tile floor. Whatever you are looking for, there is an area rug with your name on it.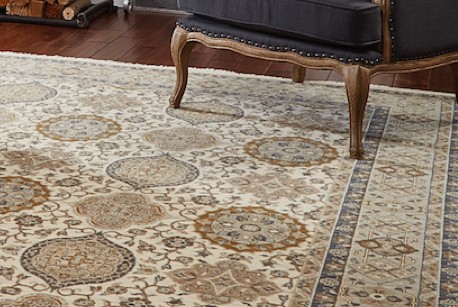 Why Choose RUG.SHOP
Looking for the perfect new area rug to complement your home or office design? Browse from more than 30,000 of the highest quality indoor and outdoor rugs from trusted brands, all at the best prices you'll find anywhere on the web.
Choose rugs from Karastan, Oriental Weavers, Radici and more. Once you've found exactly what you're searching for, we'll have it shipped directly to your home, straight from the manufacturer! Select a few filters to get started!
Top Quality Flooring from Brands You Trust
Good To Know
Area rugs are a flexible, affordable and stylish option but there are a couple of points to consider before deciding that an area rug is the solution to your flooring needs. Think about the following before purchasing:
Area Rugs Can Slip & Slide - Rugs can shift out of place which can be irritating. To minimize this you can select an area rug that has anti-slip rubber backings or a round rug that has thick stitched edges.
Only Partial Floor Coverage & Protection
A rug only protects what it covers. The rest of the floor is left exposed to fend for itself against pets, kids, spills, scratches, sunlight, and who knows what else. The rest of the floor, in addition to the rug, will need to be cleaned regularly which could double up on your cleaning time.
The same goes with hiding imperfections. The rug will only hide what it covers. If your floor is not in great shape or has imperfections spread throughout rather than in one concentrated area, then consider covering it with a broadloom carpet rather than with a rug.
Careful of Tripping Hazards
Rugs can becoming a tripping hazard if one corner or edge gets out of line.
To avoid accidents, for hallways and other area where there is heavy foot traffic, make sure that any rug you choose has an anti-slip backing so it will stay in its place.
When it Comes to Area Rugs, Size Matters 
When placing an area rug in a living room or family room the following tips can help you maximize the space.
Make sure that the area rug you select is large enough to fit under the main pieces of furniture. It can appear awkward when, say in a seating arrangement, some of the chairs are on the rug while others are not. Similarly, it can create uncomfortable imbalances when either the front or back legs are not on the rug. Measuring the area as well as considering your furniture arrangements before buying a rug is always a smart idea.
If the room you are decorating is very large it is not necessary to get a huge area rug. Instead, you can divide the room into separate sections and choose an area rug for each smaller area. To create a sense of unity, the rugs should share similarities in terms of the color, design or style. Dividing up a large room in this way can make it feel more intimate and cozy.